How Lowering A Home Price Increased The Net Profit
No hypothetical situations here. This is real and timely. In marketing a home just last month, I told my clients I felt the price point should be $610,000 – $615,000.
My clients asked me sincerely, "What about $635,000 to $650,000 range? Can we try this?"
After all, it's a seller's market. Why not try and ask for a bit more?
But their home was a bit dated in areas, and I saw that as the prime reason not to list as high as they wanted. After some talking, they didn't want to go lower than $625,000.
So I aggressively marketed the home, and we had 43 people come to see the house from mid-week through the first weekend. Some interest, but no offer. For those not interested, the core problem was "the home seem too dated."
So on the 2nd Saturday, at 10am, I called my clients and said, "We need to lower the price, and we need to do it now. I shared the feedback, and it's consistent."
"You were right Mark. Go ahead," they said.
So I lowered it $610,000 immediately. I fired off some texts to those at least hinting some interest. I pushed out some advertising. And a slew of new potential buyers came on Saturday and Sunday.
Furiously messaging and calling other agents throughout Saturday and Sunday, offers started to emerge.
By Sunday at 9:38pm, my happily stunned clients ratified a contract for $660,000.00
Wow!
What a dramatic shift right?
Yes, I did a tremendous amount of preparation, marketing, and negotiating to get to that end point. But I can tell you the key factor that really fueled the surge was going to the price I originally wanted — and making the move quickly.
Your key take away: THE PRICE MUST BE RIGHT.
I obsess over the pricing for my clients. This involves going through properties, analyzing pictures of properties, looking at the lot, the proximity to influencing factors (shopping, road noise, etc.), and the overall feel of a property compared to people's desires. Remember: Unless we're buying our house from ourself, what we think the price should be doesn't matter. It's what they market thinks the price should be…and that applies in every market.
Please share this with people. It's absolutely critical. It could be the difference between tens of thousands of dollars for them, and a much faster and more pleasant home selling experience.
Plus, at some point, the markets will shift in favor of buyers. And being priced incorrectly (outside of what I call the sweet spot), will cost you even more.
How To Get An Extra $50,000 To Spend (For Down Sizers Only)
Very simply, the demand for most single family homes has pushed their prices to record levels. However, the demand for most condos has not matched the demand for single family homes.
The opportunity to net more than you would normally get for your single family home (if you
own one), still exists. That time may be closing though. So, if down sizing — or upsizing as I prefer to call it — was something you were considering a year or two down the road, it's seriously worth considering moving those plans up. At least
look at what the numbers might look like for you.
I helped clients just last month net $50,000 more than expected on the sale of their single family home. Meanwhile, they get their updated condo at list price.
Now that's a great start to a new lifestyle. Initially it's difficult to transition out of a home you've been in for many, many years. But once the move has been made, the relief of no longer having to maintain a yard, haul out trash cans, and deal with weeds everywhere set in.
And what seemed like down sizing, truly becomes up sizing…Upsizing your life into a better space in a better place for your current situation.
The cost of lumber has fallen 40% in the month of June. A welcome relief for many in the homebuilding and home improvement business. But that massive drop still leaves lumber prices double what they were in January 2020. Lumber prices literally jumped 400% in less than 14-months.
The massive rise in lumber costs was a result of supply chain issues combined with supply and demand. As home buyers battled with soaring existing home sale prices – a percentage sought the certainty of signing a contract at a new home development (to avoid waiting to get out bid another time).
So builders ramped up faster and pushed hard on developments. But those soaring lumber prices forced homebuilders to raise prices multiple times to not get hit with higher costs.
If you're doing any home improvement projects using wood, or even buying furniture, the recent drop in lumber prices won't suddenly translate into you saving money. There's always a lag time in the markets, and then we have to see what the future holds.
So still expect higher prices for decks, additions, furniture, and other lumber related goods. Welcome to the world of higher inflation. Measure twice. Cut once. Redos are expensive.
Mortgage Refinance Update
Quickly, if your current mortgage rate is even in the low 3% range, you might have a quick window to get down to close to the 2.5% range. Message me if you need help with reliable mortgage resources.
Hot Properties
11710 Old Georgetown Road #808, North Bethesda, MD 20852
Tucked away a 1/2 a block off of Rockville Pike (just across from the Pike & Rose development), this 2-bedroom and 2-full bathroom unit gives you plenty of space in a very nice building. You can walk to Harris Teeter, My Organic Market, the movie theater, and dozens of restaurants. And Whole Foods and Trader Joes are both about a 1/3 of a mile away.
The Promenade in Bethesda #1316-S + #1318-S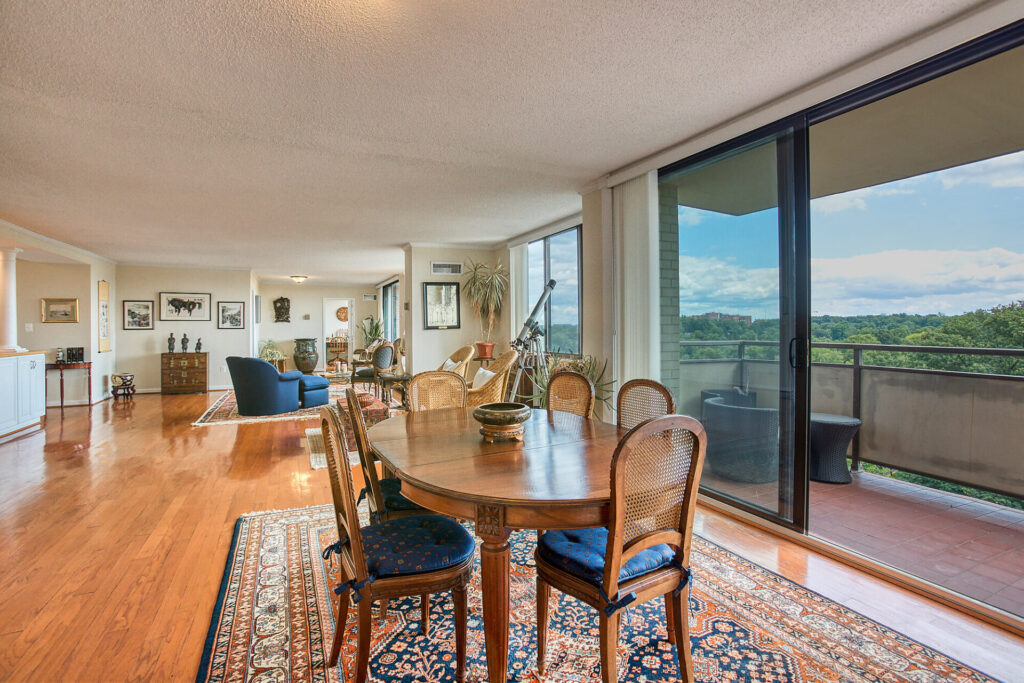 This spacious 2,058 sq.' unit was newly available — and then UNDER CONTRACT in a much faster time than similar size listings at The Promenade. With 3 bedrooms, 2 full bathrooms, 2 balconies, and beautiful, expansive Southern view — this unit gives you everything. The Promenade has an indoor pool, an outdoor pool, tennis courts, a true Fitness Center, sauna, a grocery store, Chef Tony's Restaurant, and more all on its grounds.
Thanks for checking this out. We're always here to help.